Els Encants
is probably the most popular flea market in Barcelona.
Located close to Jean Nouvel's
Torre Agbar
this market attracts thousands of visitors, specially on Saturday morning. It's quite a big place so allow at least a couple of hours if you want to visit it properly.
All sorts of things are sold in this market, so expect to find a very messy mix of everything old and new, in good condition or totally ruined, nicely displayed or just thrown on the ground... But that's the good thing about flea markets, isn't it? You never know what you can find. In this post I'm going to point out its potential as a source for cheap fabrics and trimmings, but of course it's also a good place to go if you are looking for furniture, books, flamenco dresses or 80's porn.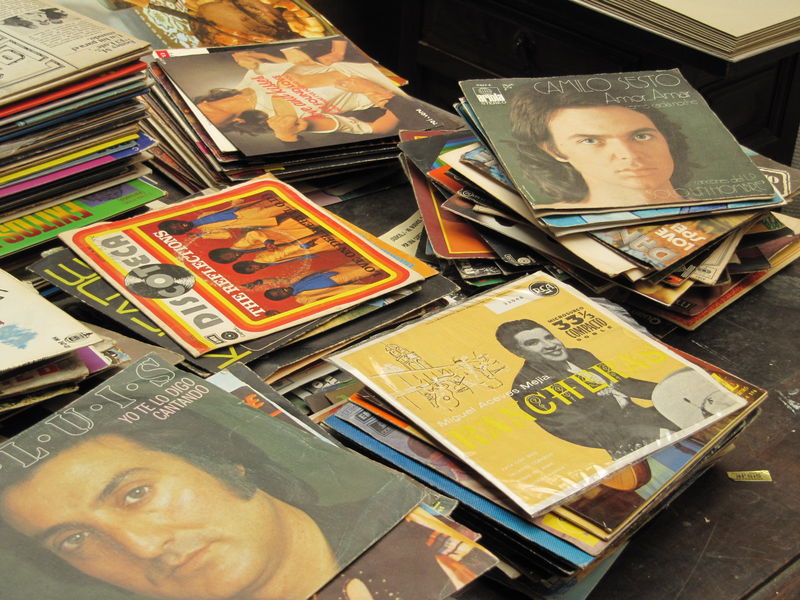 If you get there from Els Encants metro station you'll see a street closed to the traffic right ahead of you (Carrer Dos de Maig). This is the central walkway of the market where most of the stalls sell new things. There are four or five stalls selling fabric from as cheap as 1 euro a metre. Quality varies a lot, but chances are that you'll find some nice pieces. Some of them also carry haberdashery items and one of them is specially indicated for self-made belly dancing dresses or anything that requires lots of sparkle.
On the right hand side of the street you'll probably see people queuing to buy
churros
, a typical fried pastry snack. Get some too and ruin your diet! :-)
Just past the churros stand there is an entrance to the largest area of the market. Here the stalls sell everything old and new. I would point out a few places for crafty purposes: a patchwork fabric stall with prices ranging from 5 to 17 euros a metre and another stall selling scraps of leather and suede. Apart from that you'll find other stalls selling buttons, yarn and trimmings. Occasionally you might find some art materials too.
Opposite this large area there is a smaller one with narrow alleys where most of the furniture shops concentrate. One of them is specialized in old sewing machines. Both areas have accesses from Plaza de las Glories too.
The market is open on Monday, Wednesday, Friday and Saturday from 7 to 17 h. So, keep an eye on your wallet/bag (pickpockets love this place) and enjoy browsing the thousands of objects!
If you go, let us know what you found in the comments section! Last time I went I bought some
Polish folk art.